As a food, drink and travel journalist, I'm often asked about the famous people I meet. I understand the question, though I'm at the ready to talk about the new chef in town or the young winemaker making marvelous malbec. We live in a culture obsessed with celebrity. Social media feeds this basic human curiosity.
I'm usually the one in the crowd cheering for the underdog. But I confess to enjoying a moment's action with— and subsequent writing about—celebrities. Yes, my most admired Facebook posts show me hanging out with TV chef personalities such as Anthony Bourdain. Or José Andres having fun with me and chef buddies like Michael Mina. I enjoyed chatting with these friendly, famous culinarians.
Perhaps my most famous celebrity encounter was Julia Child during her 90th birthday party in San Francisco. While covering the event for a major regional newspaper, the staff photographer snapped a photo of us deep in conversation. Such a memorable evening full of love for the TV celebrity, chef and author. Later, she sent a signed postcard thanking me for sending her the article. Such a mensch, she was.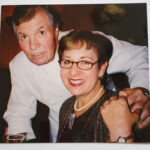 I adored meeting Chef Jaques Pepin. A wonderful TV cooking teacher, I covered a taping of a Thanksgiving segment at the San Francisco PBS station KQED. When it was time for photos, Pepin reached out to include me for an extra shot. A few years later he greeted me warmly at a special dinner at Chez Panisse restaurant in Berkeley.
Touring the world on wine assignments have brought me close to famous winemakers. Yet in Napa I had the opportunity to lunch with Francis Ford Coppola at his then Rubicon winery. Yes, he is a vintner, but Coppola's celebrity is inexorably tied to his role in directing the "The Godfather" movies. Though launched 50 years ago, the movie's cultural impact has grown over time.
With his vintner's role stage front, Coppola listened intently to my questions. I asked him which aspect of the wine business brought him the most joy, and he quickly responded, "The marketing." He then launched into a five-minute description of one of his labels which depicted the historic aspect of the winery.
As the questions wound down, I shyly asked if I could take a photo of him. Many celebrities shun casual photos for media coverage preferring their publicity shots. He not only complied with a formal portrait, he reached out to include me for a photo. And he shared this advice which I continue to follow. "My daughter Sofa taught me this trick. Always flirt with the camera."
More recently I had the opportunity to meet with Robin Zander, the lead singer of Cheap Trick. The band gained fame for songs such as "I Want You to Love Me" and "Surrender" some forty years ago and continues touring and going strong,
I remember those songs, you may say, but what does Robin Zander have to do with wine? Good question. It just so happens that Zander met the owner of Spoto Family Wines and the rest is history.
In October, 2021, I met Zander at a release party for his Spoto-Zander 2017 Oakville Special Select Cabernet Sauvignon "Surrender." Along with signing bottles and mingling with guests at the Spoto Family Winery, Zander gave an impassioned concert for happy wine fans. Zander is no wine snob. Forget fancy Napa or Sonoma. Zander chose a winery located just outside the city of Sacramento, indeed the first winery in the newer Sacramento wine appellation (AVA).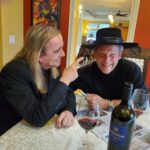 During my interview with the Rock 'n' Roll Hall of Fame musician, Zander was friendly and celebrity charming. I also discovered his sense of humor along with a desire to work with the Spotos to make wine placing his famous hat worn at all concerts on Spoto's head. He later told me he takes several hats in traditional hat boxes along for his gigs. Zander was still clowning around when he said, "Sure, let's do a photo."
The wine itself is full-bodied, luscious and smooth. Everyone appeared to enjoy the concert and the wine. Zander was enjoying himself, too, and happily posed for another photo with me and my pal Judie Lawrence. When she mentioned working at the business office of the former Licorice Pizza Records stores recently reborn evoking the era in the movie "Licorice Pizza," Zander warmed to us and posed with a genuinely happy smile.
I have no celebrity interviews on my current schedule. But as a writer I never know who will cross my path. In the meantime, I'm pleased to continue meeting new people passionate about gastronomy around the world.