Bottle Taps calls itself a "beer bar" and lives up to its name with 30 beers on tap. Add in 170 more bottles and cans, hand-crafted food, a comfy lounge area, bistro tables, and outdoor seating with frequent music offerings, and you've got a new pub scene in Pleasanton.
Bottle Taps  looks like other pubs in a small strip mall anchored by a pharmacy and bordered by many suburban apartments. But the beer bar moniker and owners' focus on food, music and community events, and number of taps sets it apart from clichés shopping center bars in Pleasanton and beyond.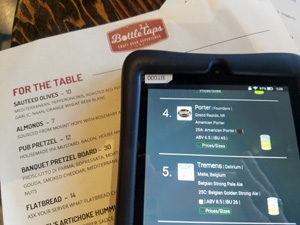 Back to the beer. Eric Wall, owner and home brewer, claims to be the only Pleasanton-based Certified Beer Judge graduate of the Beer Judge Certification Program (BJCP). The waitstaff will tell they will have to become Cicerone Certified Beer Servers soon after joining the crew. They do know their beers, highly knowledgeable of the rotating taps and majority of 200 bottles and cans. I was delighted to find Tremens Delirium, a strong, Belgian ale, listed soon after encountering this gem with my beer maven niece.
Better yet, I could sip this and taste my friend's flight which featured Shadow Puppet Hopaholic India pale lager, with sautéed olives in orange wheat beer and naan and bites of the house made giant Bavarian pretzel. There is also a banquet pretzel board to sample prosciutto di Parma, more cold cuts and cheese with olives and nuts.
I like the flavors and play on words with the "Smorgasbord" option to make your own charcuterie board with items priced individually including house made balsamic onion jam as an accompaniment.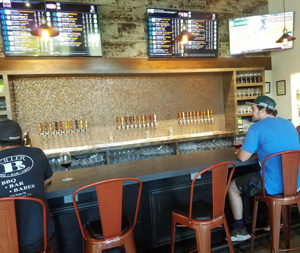 Given the wide range of beer selections, Bottle Taps has become known since its opening in 2018 as a tapas house. The shareable plates range from roasted asparagus with pecorino cheese and Meyer lemon dressing to Wagyu beef sliders and spicy prawns priced in the $4 each range.
At one visit I paired the Ol' Republic Dead Canary pale lager with the pretzel and beer and bacon flavored cheese sauce for dipping and surprisingly well with the Santa Barbara smoked salmon and house-stuffed sausage.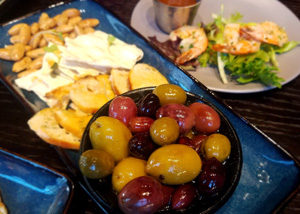 Larger bites include a tri-tip sandwich and half rack of ribs with house barbecue sauce, cowboy beans and creamed corn. Chef Patrick Tripp has haute-cuisine creds along with a creative eye. Desserts are a specialty. Consider the chocolate banana cake made with Fair Trade chocolate and Rainforest Alliance bananas and cinnamon whip. Listen to him for pairings, too. He directed me to B. Nektar's NecroMANGOcon mead with Mango and black pepper from Missouri to sip with the cake.
Tidbits:
– Check out the Facebook page for Tapas Tuesday specials such as a Junk Food Slider with pulled pork in chocolate barbecue sauce accompanied by Mountain Dew coleslaw.
– Smoke Plate weekends offers big platters of meat such as smoked brisket or chicken or the following with all the trimmings: Pulled Pork, Smoked Ribs, Baked Potato, Roasted Corn on the Cob, Texas Toast for $20.
3020 Bernal Ave., Suite 160, Pleasanton, CA
925-399-8322
Note: All photos by the author. Opinions are those of the author.